"Our past shapes us but does not excuse or define us"
Counselor - Ellen Robinson
My name is Ellen Robinson. I obtained my Master's in Marriage and Family Therapy from Liberty University and I hold an associate license of Marriage and Family Therapy for the state of Indiana. I chose the field of counseling and mental health because in life, sometimes we face hardships that aren't easy to walk through alone and I want to come alongside you to encourage and help you through them.
I am a Christian and a Christ-follower therefore my counseling has a Christian perspective. I chose to be specific in Marriage and Family because that is what I am most passionate about and I felt God's calling to. I lean toward the approach of solution-focused for my clients, because I see the most change when we focus on the future in a positive way and not the problem itself.
My passion and expertise is in helping newlyweds and young married couples, as well as women struggling with anxiety and depression. During our first few sessions together we will go over what to expect in therapy and look at what your goals would be and steps to reach them. I look forward to hearing from you!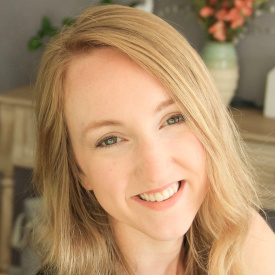 Masters Degree

Liberty University